When she heard about auditions for A Very Merry Unauthorized Children's Scientology Pageant at AGL, Frankfort attorney and one of my favorite March Madness Marching Band hoop girls Natalie Rae Lile knew that her her daughter, Emily, one half of the pair she lovingly calls her "supertwins" might be interested in trying out, but she had no idea that before all was said and done, both kids, including shy Kyle, would be in the show, tackling a number of roles each, grabbing onto each part and energetically taking them by the horns...or antennae.
Artistic Director Eric Seale enjoys the supertwins' enthusiasm, and tells me, "This is the first time I've ever had to give an actor the note "stop kicking your sister!" The twins crack me up. They're like two little short attention span marines. I'll be working on something with them, and I'll have their complete attention. They'll both be intensely focused on what I'm saying, but if I pause or turn to say something to someone else, even for a second they start hopping, or spinning. Then when I look back at them and they realize I'm watching they just laugh. I'm really curious about the hopping, is it a twin thing? the simultaneous spontaneous need, NEED, to hop?"
I wondered if this was the first time Eric had directed an all-child cast (ages 8 to 13). "Oh yes, I've only worked with kids before in small doses. The Little Jesus Girl in Pillowman for instance. and even then I had an AD who did more interacting with her because I was concerned about my ability to work with kids. Having 8 of them all staring at you...I keep having these 'Children of the Corn' flashes. I think I'd be more comfortable facing down a pack of killer dogs than a handful of kids."
"My only other reference for working with kids was in the Boy Scouts of America -- but I was closer in age to them then so I think it felt more normal. I'm still adjusting mentally to the idea that I'm the adult now."
What was Seale's biggest difficulty in directing this show? "Challenge? beyond the age gap? It's the little things really. I'm not a parent, just an uncle, and there are things kids do that mystify me...and frankly, they're all so different. I mean an 8 year old and a 12 year old don't have a lot in common per se, and so there's not only one way to address everyone. The older kids joke with me, and are a little easier to talk to, but I'll be directing, say Scott -- who plays Scientology founder L. Ron Hubbard -- who is 13 and has been in theatre a while), and I'll realize that the younger ones have sort of wandered away."
With the news media recently reporting that kids need more 'down time' -- the constant texting and tech interfacing is too much information, and the brain needs down time to gel the information so they can use it appropriately -- it's not surprising that it's hard to keep the kids focused.
Seale says, "I think the one thing that I'm learning (and this makes me sound so old) is that kids are very different now. There's an almost different mentality with them, maybe it's a digital generation thing. I'm starting to notice it with my nephew (who is 8 now, and is the kid on the poster). It's like playing pretend is a different concept for them. I'll say 'Go be alien ghosts' and they stare at me, and then each other. I just assume a kid can conjure up an alien ghost like (snap) -- basic imagination muscles, but then I remember that they spend a lot more time seeing things spelled out visually in movies and TV, more so then I did. For the first time, I worry about kids having too much tech, you should never have to teach anyone under the age of 14 how to be an alien ghost, it should be an automatic reaction."
Because Seale delights in the unexpected -- both on-stage and off -- I was curious if there was an element of surprise contained within this show. "I'm not sure what kind of surprise you're looking for. Unless someone knows the show well...then you will be surprised in general. It's way out there funny. The script itself is of course, but also there are the added nuances each kid brings to the various roles they play. Scott plays L. Ron most of the time, and Kelsey (Waltermire) is always the Angelic Child in the pageant...but even those characters switch through different personas."

Seale reveals that there are other characters that make it into the show, however. "A Cow, A Hawaiian ukulele player, A Monk, Tom Cruise, George Washington, Xenu the evil space overlord, and then there's puppets. Puppets!"

"There is no one surprise. Nothing can prepare you for this..."

+ + + + + + + + + + + + + + + + + + + + + +
Supermom, superlawyer, super hoop girl in the MMMB Natalie Lile says her twins play various roles. "Kyle plays Cow, Robot, Kid with clipboard, navy person, John Travolta and the Analytical half of the brain."

"Emily: chicken, child with raised hand, navy person, alien, Tom Cruise and the reactive half of the brain."

"Emily wanted to audition because she's a ham and wants to be Hannah Montana. I hadn't planned on Kyle auditioning, but when I talked to Eric about Emily's inexperience, he asked if I knew any boys because he needed more boys for the play. I said, 'well, Emily has a twin brother. I'll bring him and if you can get him to audition for you, you can decide if you'd like him in the play.'"

Lile tells me, "I have been thrilled at how good they have both done...especially Kyle. He can be quite shy and actually has a stutter, but does not stutter when he acts!"

"They both surprised me with how quickly they memorized their lines. Emily has never used the script in rehearsal. She's not the quickest reader, but she can memorize like anything. During the first week of rehearsal, we just rehearsed lines back and forth each night for the scenes the next night and that's it!"

Lile confesses the hardest thing has been getting them to rehearsal every day in Lexington when she lives in Frankfort now. "Gas prices are killing me! AND, they ARE siblings, so sometimes they fight when they are not on stage . . . and they aren't used to being quiet back stage. We're still working on that."

They sing in most of the group songs and they have a cute song they sing together as the brain.

SuperTwins' Secret Talent?
According to SuperMom Natalie, "Kyle has a secret talent that will be revealed at the beginning of the show.
Emily has a secret talent that will not be revealed in this show, but possibly in a future Mecca show . . . ."
ABOUT THE SHOW:
It's all over the news...and the internet. All of the celebrities are doing it -- but what exactly is

Scientology

?
Sure you could

Google

it, but wouldn't you rather have it explained by children and puppets?
A jubilant cast of children celebrate the controversial religion with uplifting pageantry and song. The actual teachings of

The Church of Scientology

are explained and dissected against the candy-colored backdrop of a traditional pageant play.
SCIENTOLOGY is a musical biography of the life of L. Ron Hubbard, with child-friendly explanations of Hubbard's notion of the divided mind and a device called the e-meter, used to monitor the human psyche, (demonstrated by stick puppets). Grade school children, portraying

Tom Cruise

,

Kirstie Alley

,

John Travolta

, and other less starry Scientologists, bring the

controversial Church of Scientology

to jubilant life in story and song.
A VERY MERRY UNAUTHORIZED CHILDREN'S SCIENTOLOGY PAGEANT
April 7-17
Thursday, Friday, & Saturday shows at 8pm
Sunday Matinees at 2pm
Adults - $20
Seniors & Students - $15
Actors Guild of Lexington
4383 Old Harrodsburg Road
Lexington, KY 40508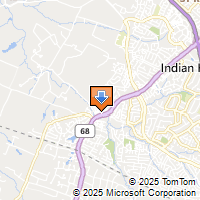 I can't wait to see Emily and Kyle and Kelsey and all the rest of this precocious cast portray the story of how Scientology made its way onto the pages of The National Enquirer and People magazine via the number celebrities who've adopted its beliefs and adhered to its parameters.
I hope to see you at AGL for this sure-to-be entertaining show!