NORMANDY INVASION is all lathered up and ready for the challenge of tomorrow's Derby, when over 150,000 people descend on Churchill Downs to take part in Kentucky Derby day.
Ranging from the common man to the celebrity, the track will be packed to the gills. Among the crowds, though, four men who are neither common nor celebrities will hopefully command extra respect. After all, they are members of the Greatest Generation.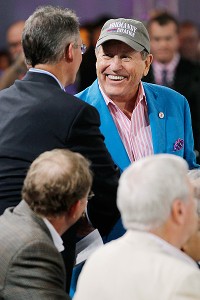 RICK PORTER
owner of Normandy Invasion, will be hosting four WWII veterans during Derby day.
On June 6, 1944, Ray Woods, Bill Wilch and J.J. Witmeyer stormed the beaches of Normandy during one of the most pivotal military operations in World War II. Alan Reeves arrived on the scene later. They will be rooting for a colt bearing the name Normandy Invasion in the Derby as guests of the horse's owner, Rick Porter of Fox Hill Farm.
This all started when Reeves called Fox Hill Farm to inquire about the possibility of meeting the colt during Derby week. Those involved with the horse thought it was a brilliant idea and have been working frantically to make the visit a success.
"He gave us a great idea," Porter said. "I also thought this would be fantastic if we could get people that were part of the actual Normandy Invasion on D-Day. We can't take credit for the idea, but it sure was a good one."
Normandie Invader Marshall Thomas, my papa.
Porter put out the word he was

looking
for veterans of D-Day to attend the Derby.
Emails came in swiftly, and in all they heard from about 40 people who had been part of the invasion or its aftermath. This week, Porter finalized details for four of them to attend the Derby in style.
"It is just fun doing something for somebody that did so much for us," Porter said. "The gentleman from California that gave us the idea wasn't part of D-Day but he did fight in Normandy. He really wanted to come and we made room for him, too."
"We thought it was easier with all the traffic and confusion in Louisville this week," Porter said. "They are so excited. The companion that emailed us about the gentleman from New Orleans has told me, 'I am not sure if you have taken five years off his life or put five years on it, but I've never seen him this excited in my life.'"
For Normandy Invasion the horse, Saturday's race will not be an easy one. But Porter hopes that being a part of the colt's chance at immortality will bring smiles to the faces of men who sacrificed so much on behalf of their country.
At the end of WWII, nearly 16 million veterans returned home to the United States. In 2013, their numbers stand at just more than 1 million. Sooner than we would all like to think about, there will be no one left to give firsthand accounts of what happened.
But, hopefully, these four members of the Greatest Generation will be around for years telling stories, one of which will be about the time they cheered home a colt named Normandy Invasion during the greatest two minutes in sports.
Here are the post positions:
1. Black Onyx, J. Bravo, 50-1 scratched :(
2. Oxbow, G. Stevens, 30-1
3. Revolutionary, C. Borel, 10-1
4. Golden Soul, R. Albarado, 50-1
5. Normandy Invasion, J. Castellano, 12-1
6. Mylute, R. Napravnik, 15-1
7. Giant Finish, J. Espinoza, 50-1
8. Goldencents, K. Krigger, 5-1
9. Overanalyze, R. Bejarano, 15-1
10. Palace Malice, M. Smith, 20-1
11. Lines of Battle, R. Moore, 30-1
12. Itsmyluckyday, E. Trujillo, 15-1
13. Falling Sky, L. Saez, 50-1
14. Verrazano, J. Velazquez, 4-1
15. Charming Kitten, E. Prado, 20-1
16. Orb, J. Rosario, 7-2
17. Will Take Charge, J. Court, 20-1
18. Frac Daddy, V. Lebron, 50-1
19. Java's War, J. Leparoux, 15-1
20. Vyjack, G. Gomez, 15-1
also-eligible
21. Fear the Kitten, A. Garcia, N/A
Track odds
Post time: Saturday, 6:24 p.m. Eastern
All starters carry 126 pounds
Television: NBC, 4-7 p.m.